Vegan Japanese Curry
Main Course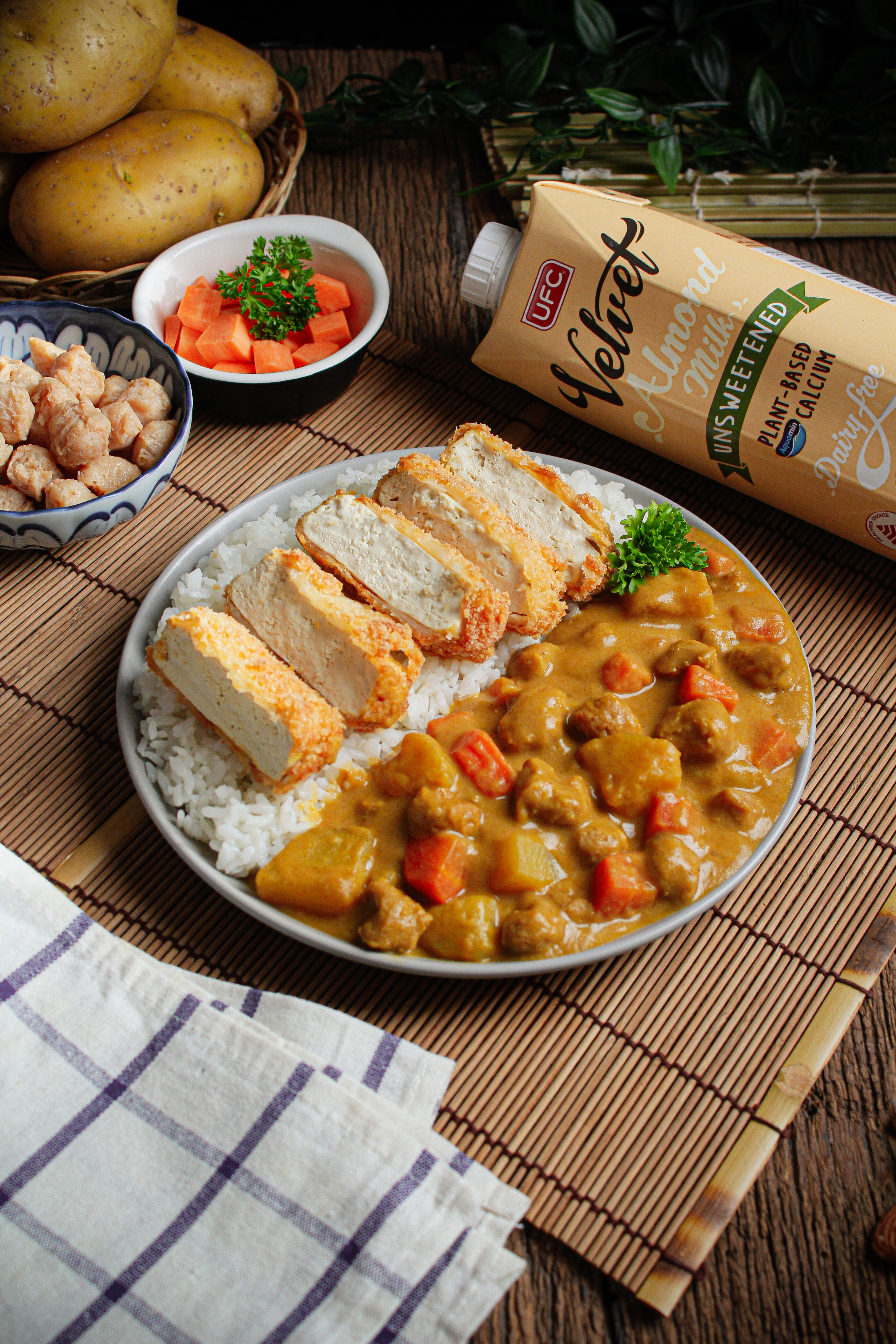 Ingredients
50 g. Vegan Yellow Curry Paste
600 ml. UFC Velvet Almond Milk unsweetened
½ Tsp. Salt
4 Tsps. Soy Sauce
3 Tsps. Coconut Sugar
200 g. Diced Potatoes
150 g. Diced Carrots
100 g. Diced Soaked Vegetable Protein
1 Piece Tofu
4 Tbsps. All-Purpose Flour
1 Tbsp. Rice Flour
5 Tbsps. Cold Water
240 g. Bread Crumbs
1/4 Tsps. Salt
Cooking Oil (For Deep Frying)
Cooked Rice
Instructions
Curry Preparation
Pour half portion of UFC Velvet Almond Milk, add vegan yellow curry paste in a skillet pan. Stir fry until fragrant.
Add diced soaked vegetable protein, diced potatoes, diced carrots and remaining UFC Velvet Almond Milk. Stir well and simmer over low heat for 10 minutes.
Season with salt, soy sauce, coconut sugar and stir well. Simmer for 2-3 minutes and turn off the heat.
Japanese Tofu Preparation
Combine all-purpose flour and rice flour, and mix together. Add salt, cold water and mix well until thoroughly blend.
Dip tofu into the flour mixture, then into bread crumbs to coat.
Drop tofu into hot oil and fry until golden brown on both sides.
Drain tofu and slice into pieces. Then place on top of the cooked rice, follow by prepared curry and ready to serve.
Video
---