Almond Choc Cheesecake
Dessert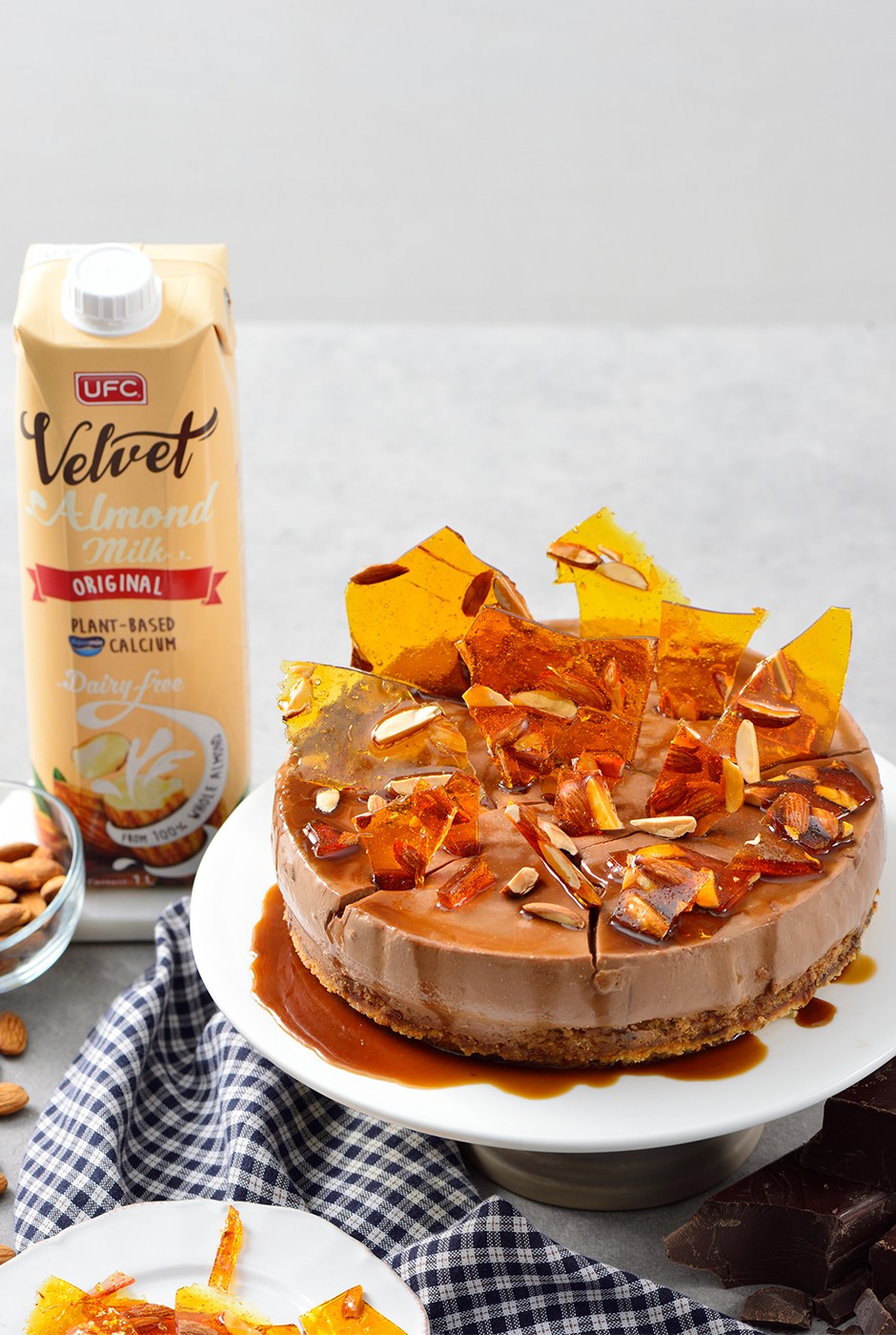 Ingredients
1 ½ Cups Almond, Grinded (scale before grind)
¾ Cup Flour
½ Cup Salted Butter, Melted
2 Tablespoons Salted Butter
1/3 Cup Icing Sugar
2 Cups UFC Velvet Almond Milk original
200 Grams Dark Chocolate, Chopped
500 Grams Cream Cheese
5 Sheets Gelatin (soak in cold water to soften)
2/3 Cup Brown Sugar
Almond Caramel Sugar Sheet for Decorations
Instructions
Prepare the base, mix grinded almond with flour and icing sugar. Add melted butter, mix together. Put the mixture into a round spring form tin and press into the base until even and smooth. Bake in the oven at 180°C for 20 minutes until golden, cool completely.
Put 1 ½ cups of UFC Velvet Almond Milk original in a heatproof bowl set over a pan of simmering water. Add cream cheese and dark chocolate, leave to melt and stir, until smooth and glossy.
Squeeze excess water from gelatin, add gelatin to the warmed milk. Stir until dissolved. Pour over the base, chill until set.
Prepare caramel almond milk, boil remain UFC Velvet Almond Milk original in a small pot with medium heat. Add brown sugar, boil until caramelized. Add butter, stir and set aside.
Transfer the cake to a serving plate, pour over with caramel almond milk and decorate with Almond caramel sugar sheet.
Video
---