/

Dates Cashew Oat Dressing
Dates Cashew Oat Dressing
Appetizer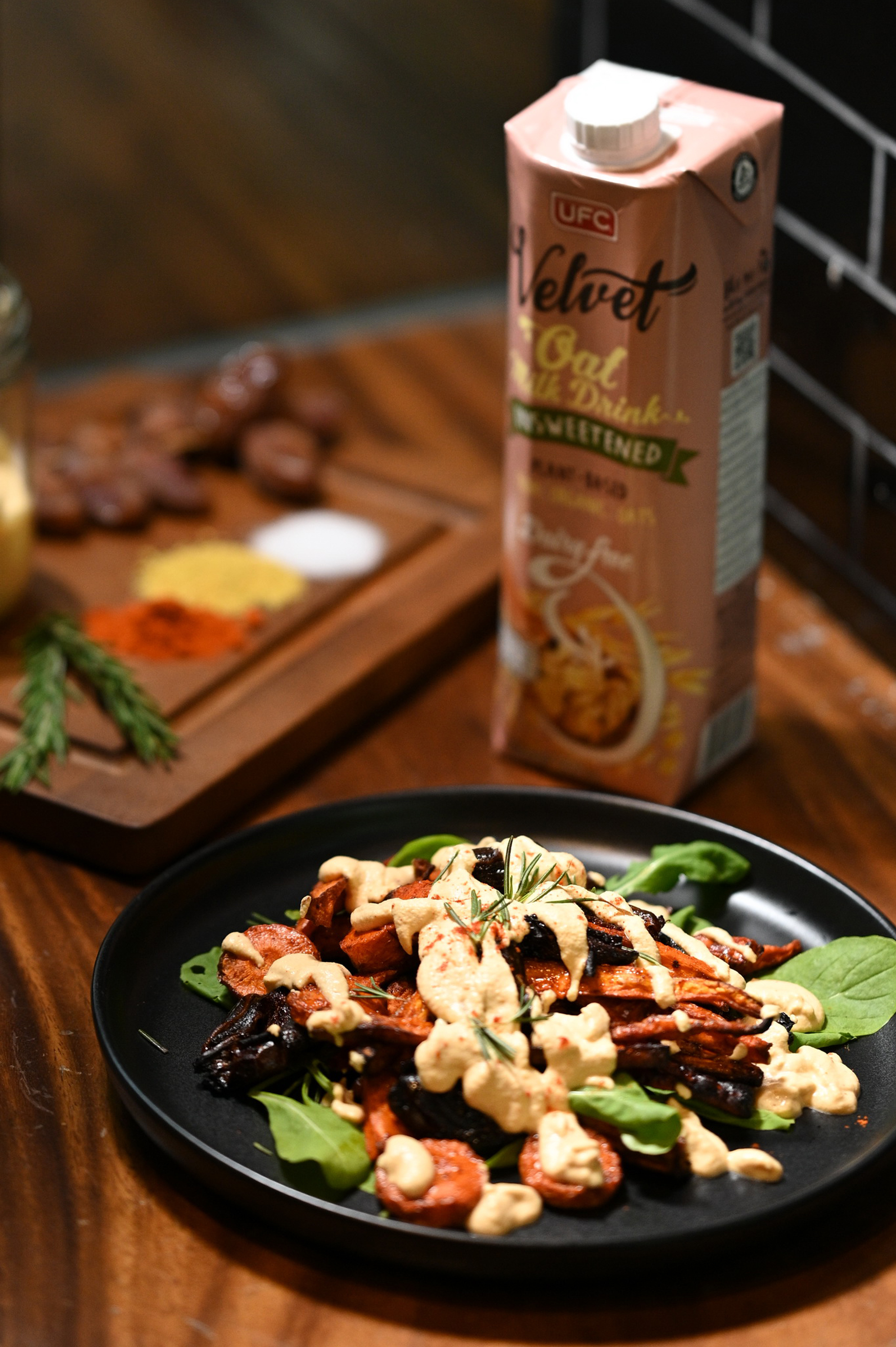 Ingredients
Cashew Oat Dressing
150 ml UFC Velvet Oat Milk unsweetened
200 g Soaked Cashew Nuts
2-3 Tablespoons Lime Juice
1 Tablespoon Nutritional Yeast
1 Tablespoon Garlic Powder
1/2 Tablespoon Salt
1 Tablespoon Mustard
1/4 Tablespoon Paprika
Roasted Carrot & Date Salad
2 Carrots (Fries Shape)
10 Pieces Soaked Pitted Dates
2 Tablespoons Olive Oil
1/2 Tablespoon Salt
1 Tablespoon Garlic Powder
1/4 Tablespoon Paprika
Thyme
Instructions
Cashew Oat Dressing
Soak cashew nuts in the water about 12 hours (overnight).
Blend soaked cashew nuts, lime juice, nutritional yeast, garlic powder, salt, mustard, paprika, and UFC Velvet Oat Milk unsweetened in a blender until it is well blended and has creamy texture.
Serve cashew oat salad dressing with grilled carrots & dates.
Keep the salad dressing in a tight container and keep it in a refrigerator up to 1 week.
Roasted Carrot & Date Salad
Preheat the oven at 170 C.
Mix carrots, dates, olive oil, salt, garlic powder, paprika, and thyme in a mixing bowl. Mix it until well combined.
Put carrot and date salad on a baking tray and bake for 20 – 25 minutes.
Serve the roasted carrot & date salad with oat cashew salad dressing.
Video
---