/

Authentic Laksa Noodle Soup
Authentic Laksa Noodle Soup
Main Course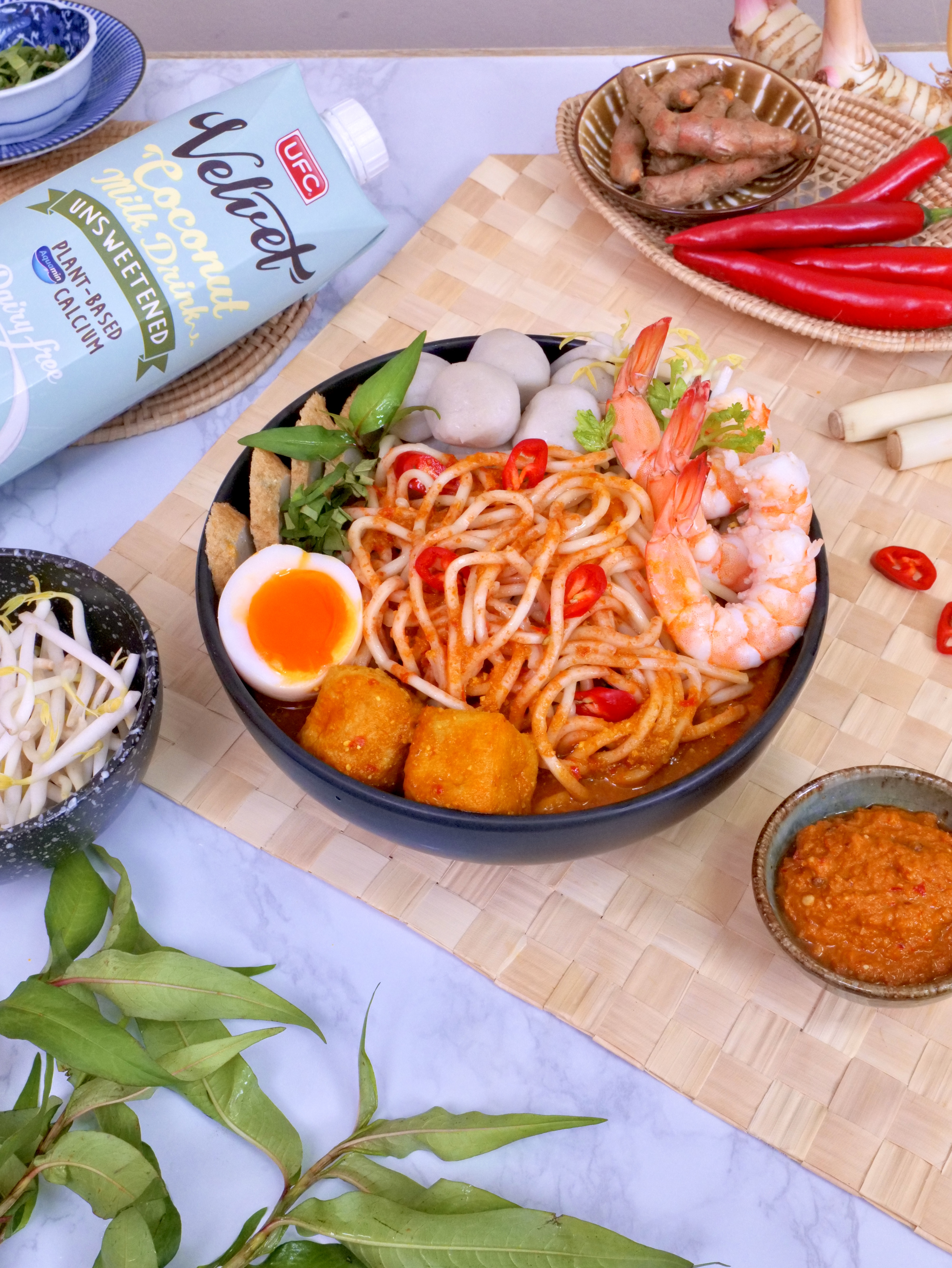 Ingredients
Main Mixture
360 ml UFC Velvet Coconut Milk unsweetened
2 Tbsps. Vegetable Oil
Laksa Paste
Shrimp Stock
2 Tbsps. Fish Sauce
1 Tbsp. Sugar
Yakisoba Noodles
Fried Tofu
Fish Balls
Hue Guo/Chinese Fish Sausage
Shrimps
Boiled Eggs
Vietnamese Coriander
Bean Sprouts
Laksa Paste Mixture
15 g Soaked Red Chilies
3 Tbsps. Blended Soaked Dried Shrimp
1.5 Tbsps. Shrimp Paste
¼ Tsp. Pepper
7-8 Cloves Garlic
½ Cup Shallots
2 Stalks Sliced Lemongrass
15 g Galangal
15 g Turmeric
¼ Cup Baked Macadamia Nuts
Shrimp Stock Mixture
180 g Shrimp Heads
2.5 Cups Water
Instructions
Prepare Laksa Paste
Combine soaked red chilies, soaked dried shrimp, pepper, garlics, shallots, sliced lemongrass, galangal, turmeric, shrimp paste, baked macadamia nuts in a blender until well blend.
Prepare Shrimp Stock
Bring shrimp heads to a saucepan and stir fry until fragrant. Add water and simmer for 20 minutes.
Prepare Laksa Noodle Soup
Add cooking oil and laksa paste, stir fry until fragrant. Add UFC Velvet Coconut Milk and stir to combine. Add the shrimp stock and simmer the mixture for 10 minutes. Season with sugar, fish sauce then add fried tofu and simmer until the tofu is tender.
Blanch fish balls, yakisoba noodles, hue guo/chinese fish sausage and shrimps in boiling water. Put all in deep bowl and ladle over the soup. Top with boiled egg, Vietnamese coriander, bean sprouts and serve.
Video
---