Pineapple fried rice
Main Course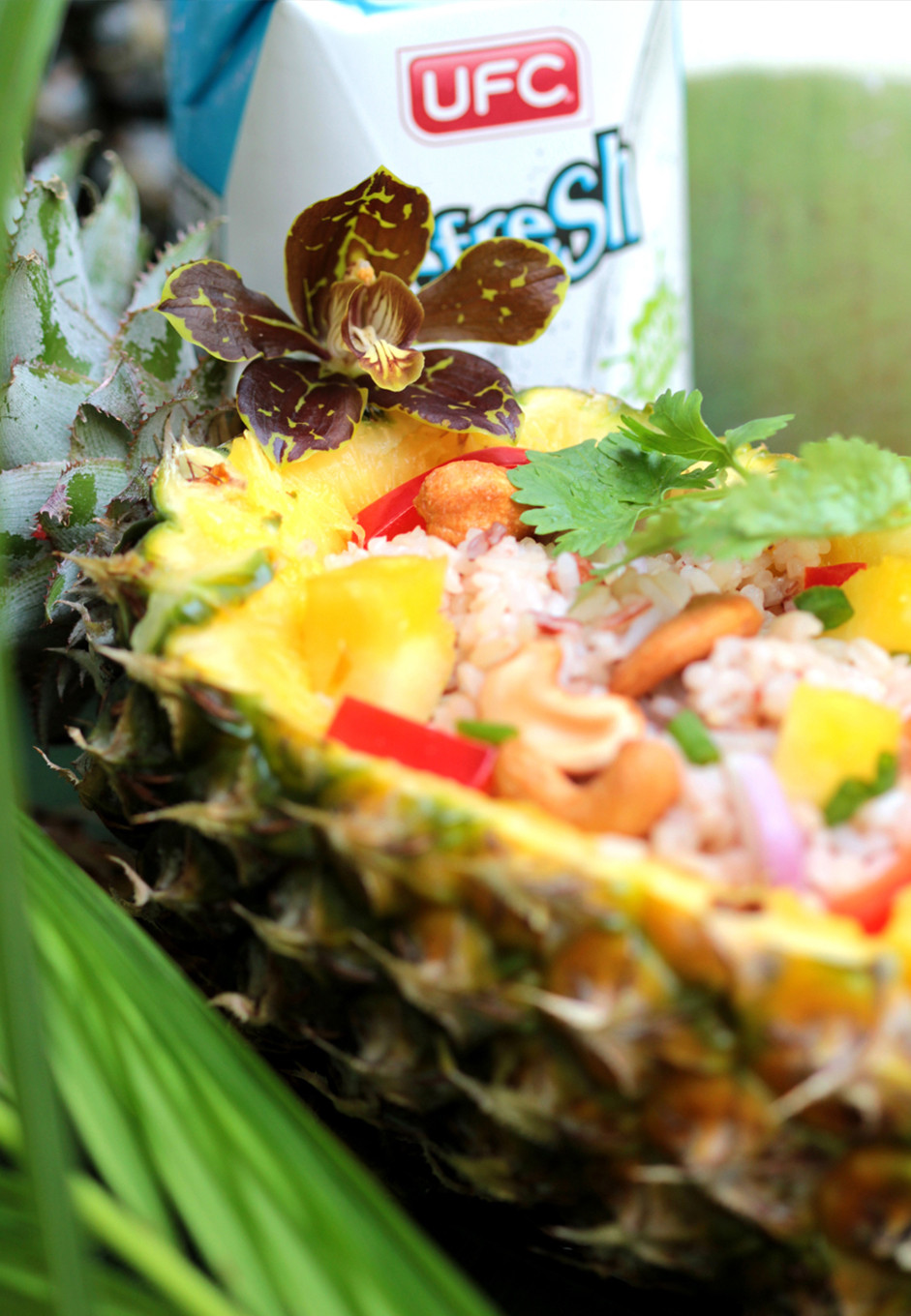 Ingredients
1 cup brown jasmine rice
1 cup 100% UFC coconut water
1/2 cup pineapple juice
1/2 cup water
5 tablespoons coconut oil
1 red bell pepper, chopped
1/2 sweet onion, chopped
4 garlic cloves, minced
1/2 teaspoon ginger, minced
2 cups cubed pineapple
2 large eggs, beaten
1 and 1/2 tablespoons low-sodium soy sauce
4 green onions, thinly
Instructions
Cook the rice. Heat a medium pot over high heat. Add the rice, coconut water, pineapple juice, and water. Stir well and bring the rice to a boil. Once it reaches a boil, reduce the heat. Simmer the rice for 30 minutes until it absorbs all the liquid. Set it aside.
Peel and chop your sweet onion. Mince your garlic and ginger. Cube your pineapple. De-seed and chop your red pepper. Thinly slice your green onions. Crack and beat two large eggs into a small bowl, and beat lightly with a fork. Have everything ready to go!
Heat a large skillet over high heat, and add one tablespoon of coconut oil. Then add your chopped onions and red pepper. Stir for 2-3 minutes while the veggies cook. Then, add the garlic and ginger. Cook for no more than one minute (so the garlic and ginger doesn't burn), then scoop the veggies out of the skillet and into a large bowl. Set the bowl aside.
Add another tablespoon of coconut oil to your skillet, and add the pineapple. Stir and cook the pineapple for 5-6 minutes until it begins to brown. Then, add the sautéed pineapple to your bowl of veggies. Keep the bowl set aside.
Add 1/2 tablespoon of coconut oil to your empty skillet, and pour in your beaten eggs. Stirring them the entire time so they don't stick to the pan. Break the cooked egg up into small pieces. Add cashews and red onion. Keeping the heat high, add 2 and a half tablespoons of coconut oil to the skillet. Then add your cooked rice and toss to coat. Let the rice heat then reduce the heat to low. Add your soy sauce, bowl of veggies and pineapple. Mix well.
Serve with cashews and coriander on top.
---