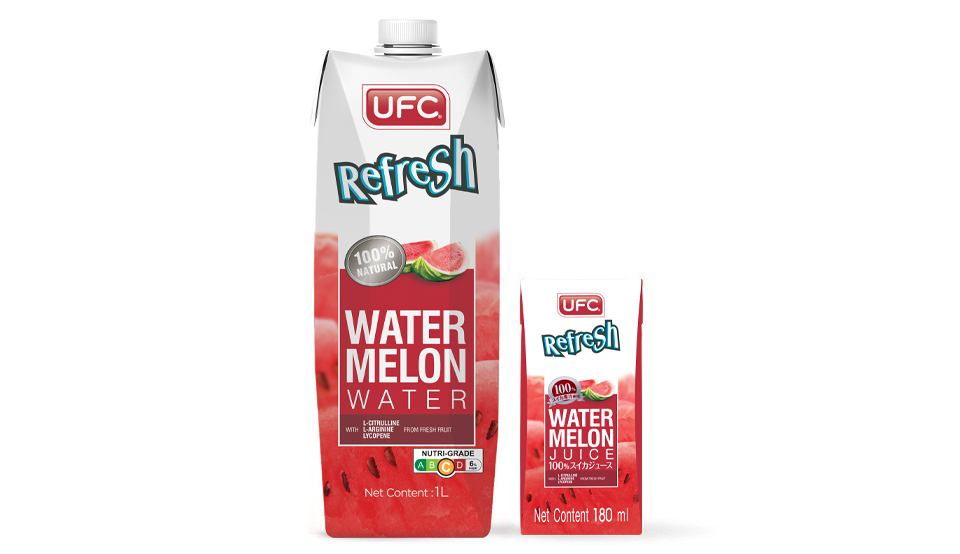 Watermelon Water
UFC Refresh Watermelon Water is made from specially selected authentic Thai watermelons. They have the just-right sweetness and unique aroma and is a natural rehydrating drink. Being 100% natural, it does not contain preservatives, artificial colours or flavours and sugar.
Size(s) Available

1000 ML

180 ML
---
Nutrition Information
Quantity Per 100 ML
UFC Refresh 100% watermelon water contains natural source of amino acids (L-Citrulline and L-Arginine) which help blood vessels relax and improve circulation.
It also contains antioxidant with Lycopene, which protects cells from damage and may help lower the risk of heart disease.
Watermelon Water
100% Original
Energy

147 kJ




35 kcal

Protein

0.5 g

Total Fat
– Saturated Fat
– Trans Fat

0.0 g




0.0 g




0.0 g

Cholesterol

0 mg

Carbohydrate
– Total Sugar

8.0 g




8.0 g

Dietary Fibre

0.3 g

Sodium

4 mg

Potassium

104.4 mg

Calcium

7.5 mg

Phosphorus

13.4 mg

Calcium

7.5 mg

Phosphorus

13.4 mg

Magnesium

8.4 mg

Iron

0.1 mg

Zinc

0.1 mg

L-Citrulline

132.4 mg

L-Arginine

118.0 mg

Lycopene

5.9 mg
---
Related Products